Steelers VS Browns
Steelers are coming off a big win over the Bengals while the Browns are thinking about bugging the powers to be about the next draft class. Coach BCreek always plays Coach Mike tough but the Steelers are too much to handle for the winless Browns.
Steelers 27 Browns 16
49ers vs Lions
The Lions predicted they would win 10 games this season while the 49ers were shocked at my prediction of 4 wins....they are 3-6. Lions get closer to 10 wins beating their old team.
Lions 16 49ers 10
Bills vs Jets
These teams just played two weeks ago as an All World Coach subbed for the Bills and dominated the Jets. Will Bills mysteriously be missing this week again and get a sub to beat the Jets? It doesnt matter .
Bills 17 Jets 13
Seahawks vs Rams
The 8-1 Rams could put a stranglehold on the division with a win over the Seahags. The Hawks keep the division interesting by pulling out a hard fought win.
Seahawks 17 Rams 16
Panthers vs Saints
Game of the week . Can KD and the Panthers knock off the champs? saints have been on a phenomenal run but it comes to an end here as KD gets a few breaks and wins a very exciting game.
Panthers 23 Saints 21
Raiders vs Patriots
The Raiders last week proved that in the PFL anyone can beat anyone on any given week. Patriots QB Blaine Gabbert is a very accurate QB...the downside is he likes to throw perfect passes to the other team. Raiders prove last weeks win over the Chiefs is no fluke.
Raiders 27 Patriots 24
Vikings vs Packers
The NFC North is anyones division to win and it looks like by the time these teams get done beating the hell out of each other a 8-8 or 9-7 team will win the division based on the highest punting average. Vikings need this win to tie the Packers at the top........
Vikings 20 Packers 17
Colts vs Ravens
This is what it has to feel like for Manloz every week and the worse part is he doesnt even get a dinner out of it!!!! The Ravens have won 4 of their last 5 and lost the one by a FG to a very good Bengals team. Ravens keep rolling as they show the AFC North has to take notice of those pesky Ravens.
Ravens 34 Colts 20
Falcons vs Chiefs
Chiefs were upset last week by Louie and the Oakland Raiders. MY preseason Super Bowl pick rarely loses two games in a row and they get back on the winning track against a struggling Atlanta squad.
Chiefs 24 Falcons 13
Giants vs Cardinals
The Giants rebounded last week with a win over the Redskins while the Cardinals havent won a game since week 3 . Coach Booey usually wins the games he is supposed to win and this one is no different...no fiscal cliff here as the Giants roll.
Giants 24 Cardinals 9
Broncos vs Dolphins
I might sound like a broken record but can anyone beat these damn Dolphins? Jim has been as dominating as any team in the league . Frob can score some points but has alot of trouble playing defense. Coach Jim on the other hand can do both quite well. After the Dolphins beat up on the Donkeys this picture is posted on NFL.com.
Dolphins 41 Broncos 24
Redskins vs Bengals
The Bengals are coming off a very tough loss to the Steelers while the Redskins are once again battling it out for the Number 1 overall pick in the upcoming PFL draft. Bengals get back on track .
Bengals 31 Redskins 13
Buccaneers vs Chargers
No more Mr. Nice Guy is 1-0 after an impressive win over the Bears. Jerry still hasnt figured out that when his team doesnt have the ball it is called playing defense!!!! Should be a high scoring game and will be worthy of a You Tube video.
Bucs 99 Chargers 86
Texans vs Titans
The TExans have won 3 in a row and the last times these two teams played the Texans put an old school beatdown on the Titans. Titans rebounded from a loss to the Steelers with a win over the Patriots. Too bad revenge doesnt motivate Madden players. Texans have the Titans number.
Texans 30 Titans 24
Cowboys vs Eagles
Two teams going in opposite directions as the Cowboys have won 4 in a row and the Eagles have lost 3 in a row. These teams have had some classic battles in the past and this one should be no different. Eagles keep it close but Cowboys squeek out a win . After the game Big Black tries to sneak out in his sweet ride....you know you cant go anywhere bro anymore without someone getting it on camera dont you?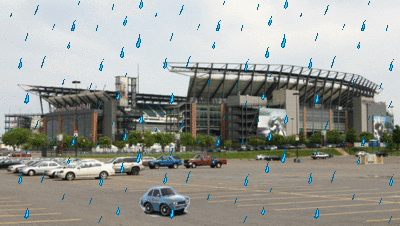 Cowboys 17 Eagles 16
Jaguars vs Bears
Bears were the unfortunate victim to No More Mr. Nice Guy while the Jaguars lost their fourth straight game . Jaguars have struggled all year with poor QB play and it once again is their downfall in this one as the Bears keep pace in the tight NFC North.
Bears 23 Jaguars 13
Sorry that last weeks picks did not get done ...like anyone really reads this damn article anyways. Everyone have fun and get those games scheduled quickly and properly!!!! Enjoy!