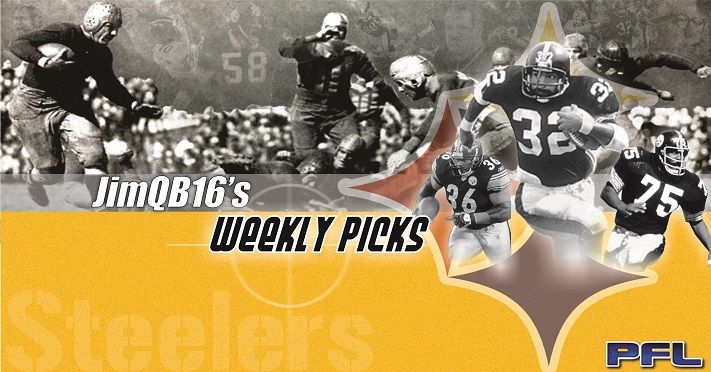 Game Of The Week

Coaching Match Up:
Rob Brick (6-3) vs Michael Ryan (9-0)
Who Wants It More?
I really love this match up and that's why I selected it as my game of the week. You have the Pittsburgh Steelers who are undefeated and have one of the longest tenured coaches currently in the PFL. Although Mike has won consistently in the regular season his post season success hasn't lived up to the hype. Can he pull of an undefeated season and strive for a second Championship trophy? Only time will tell. Meanwhile little known Rob Brick has joined the PFL and is having great success so far. Will the fact that Mike doesn't know much about Rob's play style give him a fighting chance? We shall see. Should be a great game.
Verdict:
Steelers Win
*******************************************************************************

Coaching Match Up:
Leonard Barnhart (4-5) vs Kevin Close (2-7)
Who Wants It More?
Here's a match up between the Cowboys who are struggling as of late losing three of their last four and a brand spanking new owner in Kevin Close. I think that the Cowboys may continue their downward spiral and facing the unknown doesn't help their chances of winning this week.
Verdict:
Colts Win
Coaching Match Up:
Tim Poteat (6-3) vs Gilbert Moseley (2-7)
Who Wants It More?
Since joining the league Tim has shown us that is isn't afraid to be the first owner to stick it out in Arizona and pursue a championship. He has improved the teams talent and shown that he has gotten better each season as a coach as well. Gil on the other hand hasn't been able to recuperate since losing Drew Brees. I like the Cardinals chances to keep reaching for the top of their division this week.
Verdict:
Cardinals Win
Coaching Match Up:
Macio Jacobs (3-6) vs Dave Dawson (6-3)
Who Wants It More?
The Falcons Macio has had his ups and downs in the PFL but as of late it seems like there have been more downs than ups. Dave Dawson on the other hand has come into the PFL re invigorated and ready to show the league that he wants the NFC to take notice.
Verdict:
Saints Win

Coaching Match Up:
Joe Sparich (2-7) vs Mike Kleinknecht (4-5)
Who Wants It More?
Joe is brand new to the league so it's hard for me to judge how he plays and what kind of success that he will have here with us. Mike on the other hand has already made it to the Superbowl twice here in the PFL albeit losing on both occasions. I feel like Mike took on a challenge in Kansas City and it may just improve his game even further. He will also get a crack at the AFC's finest and that will improve his chances at getting deeper into the playoffs if he can turn things around.
Verdict:
Chiefs Win

Coaching Match Up:
Sean Tibbs (6-3) vs Paul Davidson (3-6)
Who Wants It More?
It appears as though Sean has become a new man since switching teams to become the Jaguars head man. Normally I would say I like Sean to win here but Paul is a beast of a coach and something tells me after last weeks loss he is ready to be this weeks upset special. I could be wrong but this should be a great game either way.
Verdict:
Bengals Win

Coaching Match Up:
Greg Davis (2-7) vs Omari Smith (8-1)
Who Wants It More?
Greg has been having a rough go of it lately and facing the red hot Titans and head coach Omari is not exactly what the doctor ordered. Omari is out to prove that he is a better coach than people think. He has won a championship everywhere but in the toughest league known to the madden community. Can Omari finally get over the hump and lay claim to the PFL title? If he can get by the likes of Mike Ryan and John Whalen I would say I like his chances.
Verdict:
Titans Win


Coaching Match Up:
James Hatzis (7-2) vs George Hankerson (4-5)
Who Wants It More?
I have only recently come back to the league after a two season hiatus and I am thrilled to be back. After getting my doors blown off by last years super bowl champ in my first game back I have seen vast improvement. This week the Redskins who have shown great improvement themselves since I have been gone try to stop my streak.
Verdict:
You Make The Call

Coaching Match Up:
Nick Bond (1-8) vs Bill Shamnoski (7-2)
Who Wants It More?
This is another tough match up to call since Nick is a brand new coach to the league and I don't know much about him. I know that Bill wants this game badly to keep in the hunt for the division which has been a tight three way race and could come down to the wire at the end of the season. Knowing that every game counts will Bill throttle the new coach or will Nick show us that he isn't to be messed with?
Verdict:
Bears Win


Coaching Match Up:
Andrew Torres (7-2) vs Scott Gardiner (6-3)
Who Wants It More?
Now this is a rivalry for the ages! Two coaches that have played more madden games through the years between them than probably the majority of our owners combined. This is a really tough game to call knowing how badly Scott wants this game and Andrew knowing that this could be a preview to a playoff match up.
Verdict:
Giants Win

Coaching Match Up:
Brett Bachand (2-7) vs Juan Ovalle (4-5)
Who Wants It More?
Since joining the league Brett hasn't gotten an opportunity to mold the team into the well oiled machine that he would like. He shows improvement and as things fall into place he should get better. Juan on the other hand is having a very rough season after an outstanding year last year. The addition of John Whalen taking over the Bills didn't help his cause and that means that Juan really needs this win.
Verdict:
Jets Win

Coaching Match Up:
Gabe Saracino (7-2) vs Mike Goodman (6-3)
Who Wants It More?
Before leaving the PFL I predicted that Gabe would aspire to be one of the most improved coaches in the PFL and it looks like he just might be proving me right. Can Mike and his Bucs rain on Gabe's parade?
Verdict:
49ers Win


Coaching Match Up:
Steven Goodman (3-6) vs Eric Tatro (1-8)
Who Wants It More?
This game is probably not going to draw a big crowd as both the Panthers and Ravens are having rough seasons. This is mainly a playing for pride week and let's hope that both teams come out swinging.
Verdict:
Panthers Win

Coaching Match Up:
Manuel Lozano (5-4) vs Jerry Kenney (5-4)
Who Wants It More?
This is probably the most even match up of the week if there is one. Two coaches who are on the cusp of being the team with a middle of the pack draft pick or hitting their stride and making a playoff run as a wild card team.
Verdict:
Rams Win
Coaching Match Up:
Jim Retter (2-7) vs Luis Lopez (2-7)
Who Wants It More?
This is definitely not the barn burner of the week lol. This is the anti game of the week. These two teams are playing for the fun of it but being that they are so evenly matched maybe it will be a good one.
Verdict:
Raiders Win

Coaching Match Up:
Robert Fry (6-3) vs John Whalen (6-3)
Who Wants It More?
Now THIS is a game I would love to watch! This is probably going to be a preview of a playoff game well into the deep rounds of the playoffs and maybe even an AFC Championship game. These are probably the only two coaches besides Omari that have a chance of knocking the Steelers out of the playoffs. On top of that, these two coaches could not be any different personality and play calling wise. Rob is the aggressive, go for the throat offensive guru and John is the calm during a storm, bend don't break and bide his time waiting for his opponent to slip up and make a mistake so he can go in for the kill type. Fun, fun game to watch if we could!
Verdict:
Bills Win