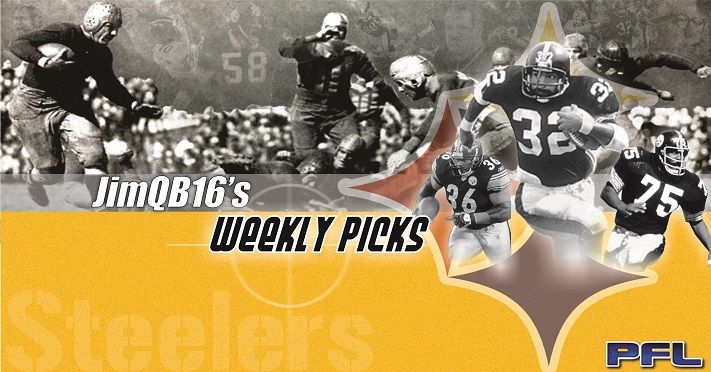 Game Of The Week

Coaching Match Up:
Andrew Torres (8-2) vs Omari Smith (9-1)
Who Wants It More?
It's not often that this late in the season you get a possible preview of a Superbowl match up. Omari is having an amazing season but has yet to show that he can carry that into the PFL playoffs. Will this be the year he does? This is a great test as Andrew and the Giants look to be the top seed going into the playoffs in the NFC. The Titans have allowed the FEWEST points per game in the league. They are also #1 against the run in the entire league. Dare I say the Giants need to bring the pass in this game or are they bold enough to run against those odds?
Verdict:
Titans Win
*******************************************************************************
Coaching Match Up:
Sean Tibbs (6-4) vs Leonard Barnhart (5-5)
Who Wants It More?
Here is a situation where we have two teams that are on the bubble. Both teams should be in the hunt for the playoffs but this is where one probably turns the corner while the other begins scouting for next years draft. This should be a great game and I think a decisive win here by either team may show the league they are a serious playoff contender.
Verdict:
Jaguars Win


Coaching Match Up:
Scott Gardiner (6-4) vs James Hatzis (8-2)
Who Wants It More?
Big game for both teams here. The Lions won the first meeting which puts the pressure on the Vikings to even the score of this inter divisional rivalry. The Lions are clicking on all cylinders offensively but have looked average on defense this year. Can the Vikings win this one to bring the division back to a heated three way race?
Verdict:
You Make The Call

Coaching Match Up:
Michael Ryan (10-0) vs John Whalen (7-3)
Who Wants It More?
If there could be a second game of the week this would be it! I was highly disappointed that we didn't get to see Whalen and the Bills have to face off with Frob and his Broncos last week. Frob was apparently fired and newly appointed Ken Washington was brought in who obviously doesn't have a familiarity with the team yet. Unless there is a divine intervention Whalen will have no such luck this week! Ryan isn't going anywhere and he's undefeated. Back when Whalen first joined the league he was the Ravens and was often handled by Ryan and his Steelers. Whalen went on to fame and fortune as the Saints head play caller before taking a leave of absence. Is Whalen ready to prove himself? This will give him a preview of the AFC road to the Superbowl, what will he do? The Steelers are tops in just about every defensive category and they aren't too shabby on offense either. The Bills lead the league in scoring, who breaks whose will in this one?
Verdict:
Steelers Win

Coaching Match Up:
Gilbert Moseley (3-7) vs Unknown (?-?)
Who Wants It More?
The Redskins coach just made an announcement he will be traveling to China for a penile enhancement surgery. Without Hank at the helm for three weeks it will be substitute coaches from here on out for the next three weeks. Gil has missed a few games as of late as well so could this be a sub versus sub game?
Verdict:
Without knowing who subs for the Skins it's impossible to call
Coaching Match Up:
Luis Lopez (3-7) vs Brett Bachand (2-8)
Who Wants It More?
Two teams playing to see who can get a higher draft pick. I am not sure if this game will bring out many fans considering neither team is in this position because of hard luck. These two franchises need a serious turn around and to give fans a reason to cheer again.
Verdict:
Raiders Win


Coaching Match Up:
Juan Ovalle (5-5) vs Bill Shamnoski (7-3)
Who Wants It More?
The Jets are having a rough season in a division that they should be dominating in considering all three of the other teams have recently made coaching changes. I think that the Jets can still turn things around and make the playoffs but a no nonsense approach will be mandatory. It's their bad luck that they are playing the Bears who look very good this year and need a win this week. Can Juan show us that his rough start was just a fluke? The Bears allow the second least points per game, more bad news for the struggling Jets.
Verdict:
Bears Win


Coaching Match Up:
Kevin Close (2-8) vs Greg Davis (2-8)
Who Wants It More?
Have the Texans fallen into a coaching lull? Greg Davis once fought for playoff supremacy and his team is now struggling mightily. I have a feeling that the Colts under new coach Kevin Close may be headed in the right direction. This season is too far gone for either of these teams but does pride play into this game?
Verdict:
Colts Win

Coaching Match Up:
Jim Retter (2-8) vs Eric Tatro (1-9)
Who Wants It More?
Two teams who face off constantly being inter divisional rivals. Both teams are having a terrible season and face the daunting task of trying to dethrone the Steelers who haven't lost the division title in something like ten seasons. Will the Browns be able to mount a surge to attempt to compete for the division next season? The Ravens are thinking the same thing so let's see who wants it more.
Verdict:
Browns Win
Coaching Match Up:
Manuel Lozano (6-4) vs Joe Sparich (2-8)
Who Wants It More?
I don't know much about Joe since he's new to the league but I do know Manny. I think Manny is the type of coach who can seem like he's down and out and then make a last minute surge and ride it all the way to the Superbowl. His division is still up for grabs so it's now or never to make a move to climb to the top.
Verdict:
Rams Win
Coaching Match Up:
Tim Poteat (6-4) vs Kenneth Washington (6-4)
Who Wants It More?
If Bronco fans wanted an upgrade at head coach from Frob this may be one of the only free agent coaches who might be able to do that. Ken was once a dominant coach in the now defunct Madden Veteran Alliance league. He's a total contrast in style from Frob who was an offensive minded coach. Ken is a defensive guru and with the offense that Frob left him this could be a winning formula. Does Tim keep his promise to me to improve the Cardinals every year?
Verdict:
Broncos Win

Coaching Match Up:
Gabe Saracino (7-3) vs Dave Dawson (6-4)
Who Wants It More?
Gabe is finally becoming the front runner in his division but he continues to lose just enough to give the other teams hope. Is this the week Gabe puts the pedal to the metal and secures the division? Does Dave put a halt to that and show everyone that the Saints aren't done just yet?
Verdict:
49ers Win

Coaching Match Up:
Paul Davidson (4-6) vs Macio Jacobs (4-6)
Who Wants It More?
Two teams that need a lot of help to make the playoffs but aren't done just yet. Something tells me Paul has a few more tricks up his sleeve. This will be a must watch game and a huge indicator of which team will be home for the playoffs and which just might be a spoiler team this year.
Verdict:
Bengals Win


Coaching Match Up:
Mike Kleinknecht (5-5) vs Jerry Kenney (5-5)
Who Wants It More?
The commish has taken his lumps early this season swapping teams and taking over a decimated Chiefs squad. With the removal of Frob from the league the division is all but his for the taking. Can he show enough improvement in the second half of the season to actually make a serious playoff run? I like the Chiefs take no prisoners attitude and I have a feeling other AFC teams are going to start to take notice as well.
Verdict:
Chiefs Win

Coaching Match Up:
Rob Brick (6-4) vs Nick Bond (2-8)
Who Wants It More?
Nick Bond is currently the most interesting coach in the PFL. He came in and took over an 0-8 team and has won two straight games. The funny thing is that the Packers last coach left behind a very solid team so if Bond is as good as advertised he could run the table and make the playoffs. I really like what Rob Brick has done since taking over the Patriots and he's making Joe Flacco look like he never has in the PFL. The Patriots are coming into the game with the leading rusher in the league AND the quarterback with the highest QB rating in the league, can the Packers slow him down? This game is going to show if Nick is for real or not and could be a huge test for the Patriots who won't get far in the playoffs if they can't beat the coaches with nothing to lose.
Verdict:
Packers Win

Coaching Match Up:
Mike Goodman (7-3) vs Steven Goodman (4-6)
Who Wants It More?
Here we have Dad versus his son in a huge game for the Bucs. The Bucs have been on a roll as of late and could make a huge push into the playoffs if they keep up this success. Can Steven show his daddy who's boss? I think the phrase, "Who's your daddy"? may be ringing in Stevens ears this game.
Verdict:
Buccaneers Win