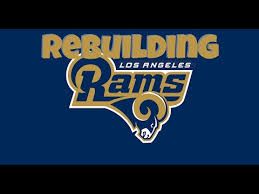 The Rams came to the draft needing a ton of players due to players aging and salary cap issues. The idea was to trade down and obtain as many picks as possible. Two trades allowed the Rams to go into the draft with 7 picks.
Pre-Draft Positions of Need
SS, HB, CB, DT, RT, FB, C, TE, ROLB and QB
Draft
1.32
SS Keith McGill
: All 4 of my targeted first round HB are gone by 1.26 and I did not want to reach on any of the other HB at 1.32. So, time to shift gears!! I thought of taking a C here or a RT but decided to go with, in my opinion, the best SS in the draft. I watched him in the sims and he was all over the field making tackles and breaking up passes. McGill plugs a huge hole in the secondary and brings youth to the position after SS Berry was cut.
2.7
C Kevin Dwight
Surprise, surprise, surprise!!!! Look who fell right into the Rams lap. I thought for sure he would be gone in the early 2nd. C Dwight fills huge hole on the OL. Rams are really happy to get this guy who was mocked in the top ten of the entire draft.
2.12
FB Keith Smith
Last seasons FB's could not get the job done. They were blown up pass blocking and run blocking. I was thinking TE Doyle or WR Rogers but decided to go with FB Smith. He adds a blocking, pass receiving and a short yardage option that the Rams were missing last year.
2.19
QB Trevor Siemian
My luxury pick! I thought of taking him at 2.12 but went with the FB need. There was a break in the draft and I was off to bed. I thought about all the players I could take and there were a lot with upsides and downsides but I always came back to QB Siemian. So, I pulled the trigger on, arguably, the best QB in the draft. In a couple years he will take over for QB Vickers at a very nice salary cap friendly price. Yeah!
3.14
RT Leslie Ingram
At this position in the draft I felt like I needed to fill my RT spot. I really liked RT Al Murphy and was hoping he would fall a little more but he was selected at 3.7. Well RT Ingram was my second choice and he is still a starting option. He has all the attributes and is way better than anything the Rams started last year. So welcome to the Rams Mr. Ingram.
4.12
WR "OH"Tay Goodrich
I was at work and unable to make any picks. I told my brother to draft me a TE or WR. WR it is! Yeah! I had targeted him pre-draft and figured he would fall into the 4th or 5th round. So right price for the talent.
5.12
MLB Kirk Hendricks
I had my luxury pick already. So this was my "What the Hell" pick. He has garbage STR, INJ and TGH but he has great AWR, good SPD, AGI and ACC. Either way he's my back up MLB.
Post Draft Thoughts
I was surprised by a few picks in the first round and that 4 HB's were taken. I did not see that coming. I thought for sure one of those guys would be there at 1.32. I saw some reaches in the later rounds that left me scratching my head but that is how the draft rolls. I am overall happy with my selections because it's easy to draft best available when you need so much. Onward to UFA2 and the start of a new season.