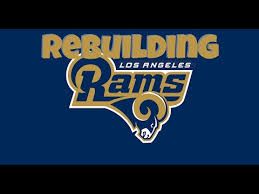 Hello all,
Well 3-3...... Not bad.... Could be alot worse and with the injuries so far sustained it could, very well, be a long year. WR Walters and CB Holmes both starters and major pieces of both the offense and defense are out for 8 weeks. This is the second year in a row major parts of the team have been injuried. The Rams are not very deep on either side of the ball and these injuries plain hurt. So first a rookie review and then an overall offense and defense overview.
Rookie Review:
1.32
SS Keith McGill
: He definitely stregthened the defense and has been instumental in making the Rams defense a top 10 unit. Only one catch allowed with 22 tackles.... Not bad.
2.7
C Kevin Dwight
: Solidified the center of the OL.... 22 Pancakes and 1 sack.... Again not to shabby.
2.12
FB Keith Smith
: Probable the reason why HB Drake has 598 yards this year with a 4 yard per carry average.... Keep up the good work.
2.19
QB Trevor Siemian
: Has not played a whole lot.... 2 pass attemps and 2 incompletes.... He is still going to ride the pine.
3.14
RT Leslie Ingram
: Super solid on the right. 35 pancakes and 1 sack..... Great pick up.
4.12
WR "OH"Tay Goodrich
: Late round pick up that is going to get alot more playing time do to injuries to WR Walters.... 7 receptions for 81 yards so far and most of that was in 4 wr's sets. Let's see how he does in 2wr sets.
5.12
MLB Kirk Hendricks
: Hasn't seen too much of the field because MLB Perryman is having a career year. Hopefully he will improve on his 6 tackles.
Offense:
QB Moore is an interception machine and has single handlely lost games. WOW pretty brutal but the truth is the truth.... HB Drake has had a pretty good year with nearly 600 yards on the ground and has kept the Rams in games that should not have been even close.
Defense:
Team effort all around... LE Bosa leads the team in sacks and the unit is a complete surprise to me. Ranked the 7th best defense in the league. It is funny how sometimes they play great together and other times they look like a mess left by a dog..... But all I ask is to keep the score close till the 4th quarter to allow the Madden Gods take over. Sometimes that's good and sometimes that's bad but at least it's a 50-50 shot.
Looking forward to the rest of the year.... HAGO!!!