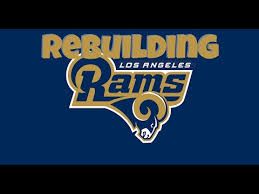 Hello to all in PFL land…. Well, the 2020 PFL Draft has come and gone. The Rams, having a good draft last year, look to build upon their success with another solid draft. Their 6-10 losing season can be explained in a couple of ways. First, starting an inferior QB and second, injuries to key starters. So, let's dive in!
The Rams, last year, gained and extra first round pick from the Titans in the QB Vickers trade which gave the Rams back to back top ten selections in the first round. The only other trade accomplished was with the Packers for aging WR Stephens which netted another fifth-round selection.
Pre-Draft Positions of Need
DT, HB, WR and CB
Depth Needed
FS, OL, FB, TE, and MLB
Draft
1.09
CB Kevin King
: The Rams have an aging and short CB crew and was in desperate need of some new blood. So… since this year's CB class is stuffed with talent. Let's pick up a good one. I had Kevin King rated as the third best CB in the draft. Standing 6'3" with 94 speed, it is easy to see why. He is a plug and play starter without the need for any training camp points. "The King" will reign over the Ram's secondary for years to come and bring pain and misery to those who dare enter his domain. Long Live the King!
1.10
HB D'Onta Foreman
: HB Drake had a break out year but was sidelined with injuries that lasted quarters, halves and whole games. Definitely not a way to keep the starting job. So, enter D'Onta Forman. I had him rated the second-best HB in the 2020 draft. He is not the fastest back in the draft but he will pack a wallop. Mr. Foreman fits the Rams running style and has the injury/toughness attributes to stay on the field. Training camp will add to his already impressive attributes with points going on his awareness and carry. Welcome to the Rams D'Onta.
2.09
DT Malik Mc Dowell
: This year the Rams jettisoned two aging DT's with huge salaries. The salary cap is going down and the "big money" needs to be spent on position players that make a difference on the score board. The PFL is not the NFL and DT's are just not as valuable. (Thank you ICL for proving that…) Now, this doesn't mean you can put a 65 OVR guy in there and expect 10 sacks. So, at 2.09 the Rams pull the trigger on DT Mc Dowell. He has the basic attributes, 84 OVR and stands at 6'5". He will line up next to another addition to the team. UFA pick up DT Matt Lyle. While I can't say if the line improved but the holes are plugged and at a nice price.
Major Needs Filled! Now on to the best available portion of our show.
3.09
FS Marcus Williams
: FS Jones has one more year left and he is out the door. Since this will be a definite need for next year, the Rams decided to get proactive and draft one early. Mr. Williams fits the bill. Good size ok speed. We will give him a shot this year.
4.09
LT Antonio Garcia
: Another player who is looking to fill in for an aging veteran. LT Collier is in his last year of his contract that comes in at 6m per year. Again, with the cap coming down economics will come into play. Mr. Garcia has the size, strength, with ok attributes. With some training camp points and a trip to Europe he will be starting next year.
5.09
FB Lake Lane
: WOW! HB attributes as a FB. Got my #2 HB in the 5th. Yeah!!
5.11
WR Jehu Chesson
: Nothing fancy here.... He just adds depth.