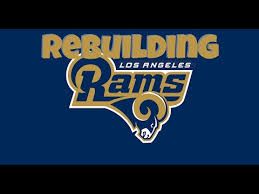 Hello to all in PFL land… Well not too much joy in Ram's Land... 1-6 is just horrible. QB Siemian is an interception machine and has a sub 50% completion average. The rest of the offense is also sub par and playing like garbage. This could be due to a bunch of items but young OL, QB and RB does not equate to wins in Madden. This is just a season to survive. The defense on the other hand has been playing well. LE Bosa has 11 sacks and the Rookie FS and CB have shored up the secondary. Overall the defense has kept many games close that should have been blowouts. Already looking forward to the off season. Post draft trades have netted the Rams 10 draft picks for next year. The re-building continues.
Rookie Review
1.09
CB Kevin King
: 26 tackles and one interception returned for a TD. Mr. King fits right in.
1.10
HB D'Onta Foreman
: 160 attempts for 463 yards.... Not bad but not to great either. Only 2.8 yards per carry. He needs to step up and show why he was the second running back selected in the draft.
2.09
DT Malik Mc Dowell
: Filled a big hole in the D-line. He has made a nice contribution to the overall defense with 3 sacks and 16 Tackles.
3.09
FS Marcus Williams
: Great selection in the 3rd round. 33 Tackles with one interception. Nice...
4.09
LT Antonio Garcia
:33 pancakes with only one sack. He has been solid on the line but releases his blocks too early.
5.09
FB Lake Lane
: Depth player and has been HB Foreman's back up. Nothing special.
5.11
WR Jehu Chesson
: Depth player but had a couple of clutch catches in games. He is a little bit of a surprise.